A map is shown below. The underlying map is an Ordnance Survey 1:25000 map that has been produced by Bing. On the underlying map, public rights of way (PROW) are indicated by dashed green lines. Solid lines have been superimposed on top of the underlying map (and will usually hide these dashed green lines). A solid red line signifies a footpath, a solid magenta line signfies a bridleway, a solid green line signifies a restricted byway and a solid blue line signifies a byway open to all traffic (BOAT). These solid lines have been produced from data obtained from the Council of Buckinghamshire (BM) and from the Council of Oxfordshire (ON). You can click on a solid line to get more details about that PROW. You can click on the + and - buttons to zoom in/out.
There's a PROW that crosses the border between Buckinghamshire and Oxfordshire which has a bit that is missing from the datasets provided by the councils of Buckinghamshire and Oxfordshire. The PROW is located about 1K E of the road junction that is at the top of the hill in Horton-cum-Studley. It's at SP604124 and this is in postcode OX33 1BZ.
The missing bit is from the Northern end of Oxfordshire footpath ON/257/10/20 to the Southern end of Oxfordshire footpath ON/257/10/10. The bit that is missing runs from about 51.80699,-1.12435 to 51.80752,-1.12487 I think the gap is about 69 metres long.
I guess that Oxfordshire reckon the bit in between is in Buckinghamshire. This seems to be confirmed by the online map of SP61SW that is provided by Oxfordshire. I've also looked at the online map provided by Buckinghamshire and the missing bit is missing from that map too.
Photo of the missing bit
The NE end of ON/257/10/20 is at the footbridge which - if you look closely - is in the hedge at the bottom left of this photo. And the S end of ON/257/10/10 is in the corner of the field at the top of the photo. So the missing bit runs from the footbridge alongside the field to the corner of the field at the top.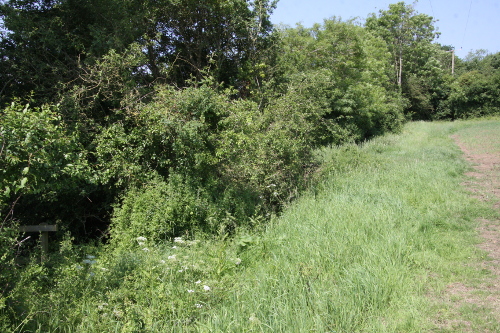 Action
On June 6th 2016, I raised this problem with both councils. On June 9th, I received a reply from Buckinghamshire County Council saying that the PROW that's missing from their data is "Boarstall FP 17". Each council has to maintain a "Definitive Map" which is the authoritative source of their public rights of way. Although Boarstall FP 17 was present on earlier versions of their Definitive Map, apparently it was accidentally omitted in the latest version.